Puck the Mighty Puma
Puck developed diabetes when he was thirteen. He responded well to treatment, but took his leave about 20December2004 at age 14½. His presence enriched my life, and I feel his absence every day.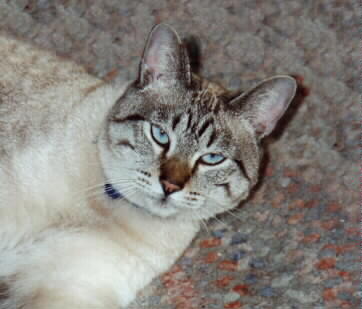 As I drifted off to sleep on 20 June 1990, I heard a faint but familiar sound. I fell asleep right away, and didn't remember what I had heard until the next day. By then I was on an airplane to New Jersey. When I returned a week later, I crawled under some bushes in the back yard and discovered a litter of seven kittens.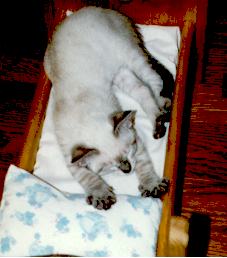 Six of the kittens were doing pretty well, but the runt was tiny, severely dehydrated, crying, and about to die. I brought him inside. He weighed 150 grams (about 5½ ounces) and could curl up in the palm of my hand. He could not walk or stand. He was
not
cute. I had some kitten formula (I kept such things around), and began to feed him with an eyedropper. I had no illusions that he might live; I just wanted to keep him comfortable while he died. I continued to feed him every two hours for the next couple of days, and to keep him warm with a bottle of warm water in a cardboard box. His mom ran off, and I brought the other six kittens inside. Next Puck, then the rest of the litter, developed mites. I spent the summer of 1990 dipping each kitten in insecticide and babysitting the litter in my tiny home.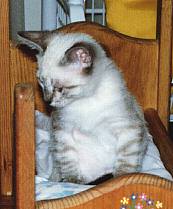 Needless to say, Puck and his littermates survived. After such bonding, how could I give him up? I had sworn to not adopt any pets until I finished medical school, but Puck has proven to be an invaluable companion over the past five years. The other six kittens found good homes through the San Diego Humane Society.
---
The large portrait at the top of the page (and many other excellent pictures of Puck) was taken by
Cindy Hoskins
, who also did some great work in Photoshop improving the original. She is an excellent photographer and graphic artist who also does some HTML programming.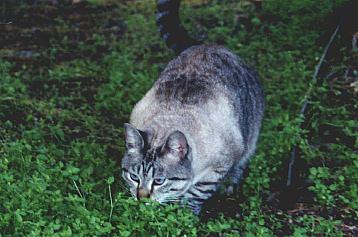 ---
Date created: March 3, 1996 --
RonRisley
- 23 May 2005