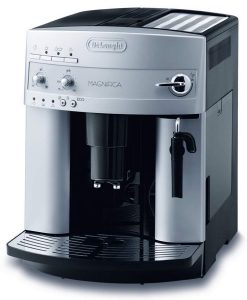 My favorite way to make coffee is cold brew, but I do enjoy cappuccino. Since moving in with my betrothed, I have grown accustomed to having her DeLonghi Magnifica (ESAM3300) espresso machine at hand.
It was a drag, then, when one morning the machine made an impressive POP! followed by the sound of escaping steam. Subsequent efforts to pull an espresso were met with disappointment.
First step was to completely clean the machine (well, after step 0: turning it off and back on). I even descaled it with official DeLonghi descaling solution. Alas, no joy.
Removing the covers and doing a close inspection revealed the problem: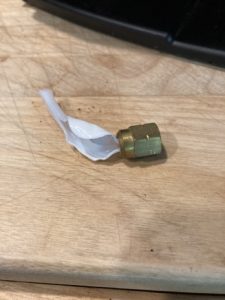 A small plastic tube that connected a heating element to the steaming valve had ruptured.
Now, one of the cool things about the internet is that lots of small mechanical parts are available. I went to the DeLonghi site where I found an exploded diagram of the Magnifica and obtained the part number of the ruptured tube. I quickly found a store that had it for about $5, so I ordered it and waited.
The part arrived, but wasn't right. Not  only  was  it  too  short  by  over  a  centimeter, but it had compression fittings already pressed on both ends, making it impossible to install the brass nut that is required to connect one end.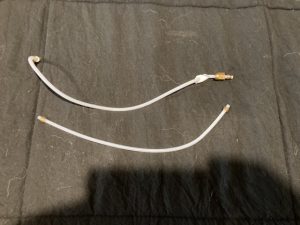 I searched a number of sites and resources, but found that the part number varied among sites but none of the parts I could find would fit. I concluded that the design must have gone through multiple revisions (because the tubes broke frequently?) and the correct part was not available either from DeLonghi or any appliance repair parts shops.
What to do? Replacing the machine would be impressively expensive. Yet, something ate at me about the tube. It felt so… familiar.
Eventually, it dawned on me that it was the exact same tubing used by Bowden tube style 3-D printers. I'd handled dozens of pieces of that 4mm PTFE tubing over the years. I could order compression fittings (I had to buy 50) and several meters of tubing for under $10. I attached a compression sleeve to one end and crimped it by installing it with the brass nut, then I removed the nut, turned it around, and attached the other end of the tube with another compression sleeve. Then I turned the whole tube around, re-installed it into the Magnifica, and presto!
The Bowden-tube tubing seems to be really common in this particular machine, and I suspect it is a staple in other DeLonghi espresso machines as well. If you're trying to repair such a machine and cannot find a replacement part, look into 4mm PTFE for 3-D printers.