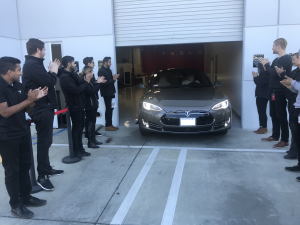 Back in December I posted about buying a used Tesla Model S, musing that I wouldn't have to buy gas again. O, hubris! I loved the car — for eight days. Early on the ninth, Christmas Eve, I was driving to pick up some food for Christmas dinner. It was still dark. It was foggy and rainy. I was driving slowly on familiar streets. I'm still not sure what happened, but there was a big bang! and the car was on the center divider.
I drove off the divider, but something was dragging under the car. I pulled to the side of the road and the car stopped and refused to move. I called Tesla, who said it sounded like an accident and sent a tow truck. The only visible damage to the car was a flat tire.
Hours later, the tow truck arrived but they couldn't get the car onto the flatbed. They finally jacked it up, and found "a boulder" under the car. They towed it to the Tesla-approved body shop.
Everything from there seemed to take forever. Finally, the insurance company said it was a total loss. I was shocked; the preliminary estimate from the body shop was under $5,000 in damage, but the insurance adjuster seemed to feel that the damage was much worse. Much discussion ensued about the value of the car pre-accident, but ultimately the insurance fully covered my loss (less deductible).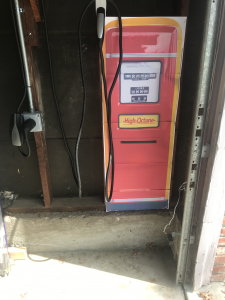 Tesla then went out of their way to find me an equivalent used Model S. The one I ended up with required a long wait and a trip to Orange County to pick up, but had a few features that I decided I wanted after my brief experience.
So all's well that ends well, and I am enjoying the car more than I had imagined.