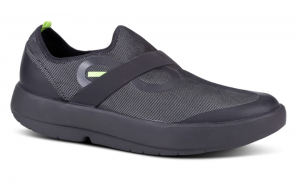 tl;dr a sprinkling of baby powder curbed my shoes' evil sock-eating tendencies
I have been plagued with foot pain for as long as I can remember. As a consequence, I have tried countless different kinds of shoes, from cheap to pricey, but have worn flip-flops or gone barefoot most of my life. I'd estimate I have spent over $10,000 on shoes and never found a comfortable pair… until last year. I had been wearing some Oofos flip-flops that I found remarkably comfortable, and discovered that they sold shoes as well. I decided to try a pair.
The "OOmg Fibre Low Black and Gray Shoe" felt good. Unlike many shoes I've tried that feel good when I try them on, the Oofos continued to feel good after hours indoors, and still weren't causing pain after miles of hiking.
Footwear nirvana?
Not quite. Though the shoes fit well and didn't hurt, they positively devoured socks. After walking even a hundred meters, my socks would be sucked down into the shoe until they were bunched up under the instep leaving my heels bare.
I searched online for solutions to sock-eating shoes, and found many, all of which suggested that the answer was different socks. (Is Big Sock™ running an influence campaign?) I bought many different kinds of socks. The only thing that came even close to working were some tight fitting knee-high soccer socks, which by dint of their length alone gave me a few more steps before my heels were blistering.
Then, suddenly, the haberdashery hunger vanished. I could hike all day without having to stop, sit, remove my shoes, and reposition my socks. The perfect shoe had been found. Then they wore out.
Oofos have a very soft sole. I'm not complaining; I think that's likely the reason they work for me. It also means that I can wear through a pair in months, even though I only wear them when I'm out hiking. No problem, though. They're fairly modestly priced, so I can just buy a new pair.
I fully expected a period of sock-eating behavior in my new shoes. Surprise and joy: no sock eating occurred. For almost a month. Then the right shoe (exclusively) began exhibiting sock-ingesting behavior. It got worse. The shoe was unusable. While walking and tugging and stopping and tugging, though, I realized that there must be a relationship between the coefficient of friction between the sock and my skin and the sock and the interior of the shoe. A light sprinkling of baby powder in the offending shoe completely fixed the sock-eating tendencies. I'm back in footwear nirvana.