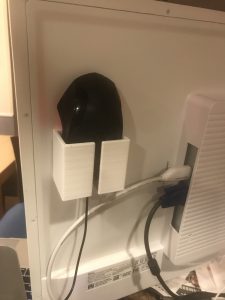 No, it's not a device for making rodents confess.
I use a MacBook Pro as my main computer, and I really love the trackpad. I only use a mouse for gaming and the occasional bit of high-resolution CAD work. I have really limited desk space, though, so the mouse was often unused but in the way.
This dirt-simple print (I don't think it took me five minutes to design it in FreeCAD) lets me stow the mouse out of the way when I'm not using it.
Source and mesh files for your 3-D printing pleasure are on Thingiverse.